Without losing the high corrosion resistance and function as ever, we develop the decorative plating to appeal to design one after another.
Metallic tone with depth and delicate glossiness created by Kakihara which represent high grade sense for automotive interior/exterior finishing are highly evaluated by many of car manufacturer.
---
Decorative plating technology
---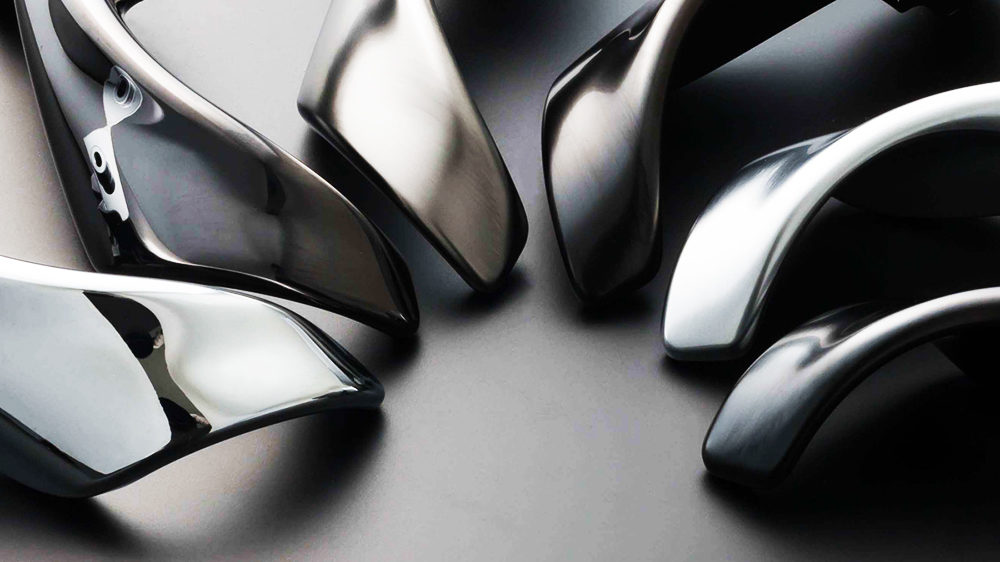 To pursuit the depth of color tone and texture exceeding those of the genuine.
To meet the rising demand for the design in automotive industry, Kakihara approaches to the colors to be represented with design thinking based technological development to create new idea. Highly evaluated platinum satin plating evolved to the dark tone and recently added the profoundness like Japanese sword. Our development aiming for genuine continues as ever.
---
Implementing the color to be represented.
---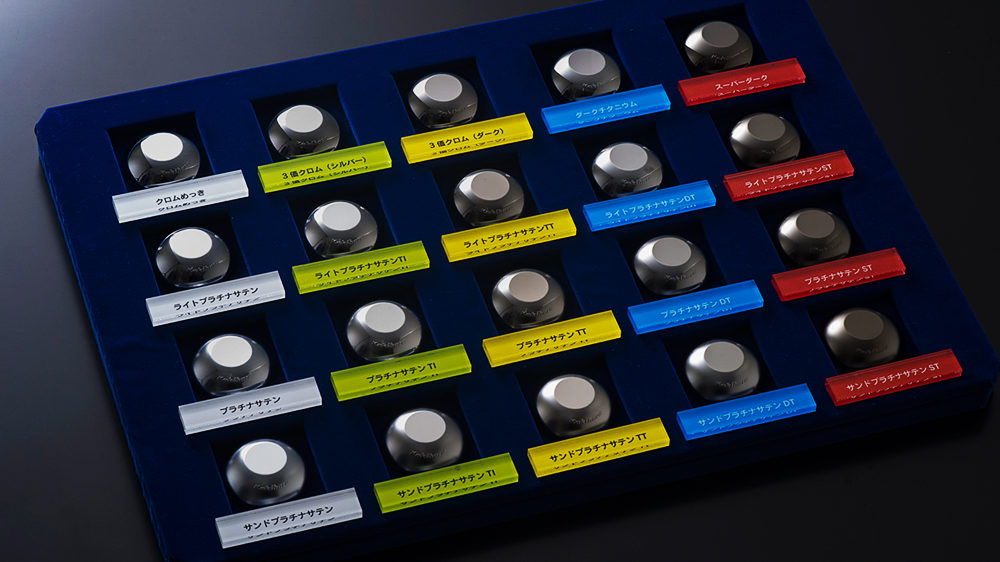 GLOSS
L
I
G
H
T
1
2
3
4
5
D
A
R
K
6
7
8
9
10
11
12
13
14
15
16
17
18
19
20
MATTE
1. Chromium plating
2. Trivalent chromium(Silver)
3. Trivalent chromium(Dark)
4. Dark titanium
5. Super dark
6. Light platinum satin
7. Light platinum satin TI
8. Light platinum satin TT
9. Light platinum satin DT
10. Light platinum satin ST
11. Platinum satin
12. Platinum satin TI
13. Platinum satin TT
14. Platinum satin DT
15. Platinum satin ST
16. Sand platinum satin
17. Sand platinum satin TI
18. Sand platinum satin TT
19. Sand platinum satin DT
20. Sand platinum satin ST
We developed the color with depth and giving expression to glossiness such dark tone of [super dark] and bluish dark tone of [dark titanium] one after another. Moreover, [platinum satin dark series] which was created by collaboration with European style platinum satin plating and each dark tone plating, more intrepid texture can be represented. Naturally enough, strong resistance against corrosion is effective.
Please click below "latest technical information" for further details
Password is required for browsing.
In case of first contact and /or password is unknown, kindly contact to below mentioned phone number.
Kakihara Industries Co., Ltd. new process development section
tel. +81 84 953 8100
---
Providing the color samples of decorative plating
---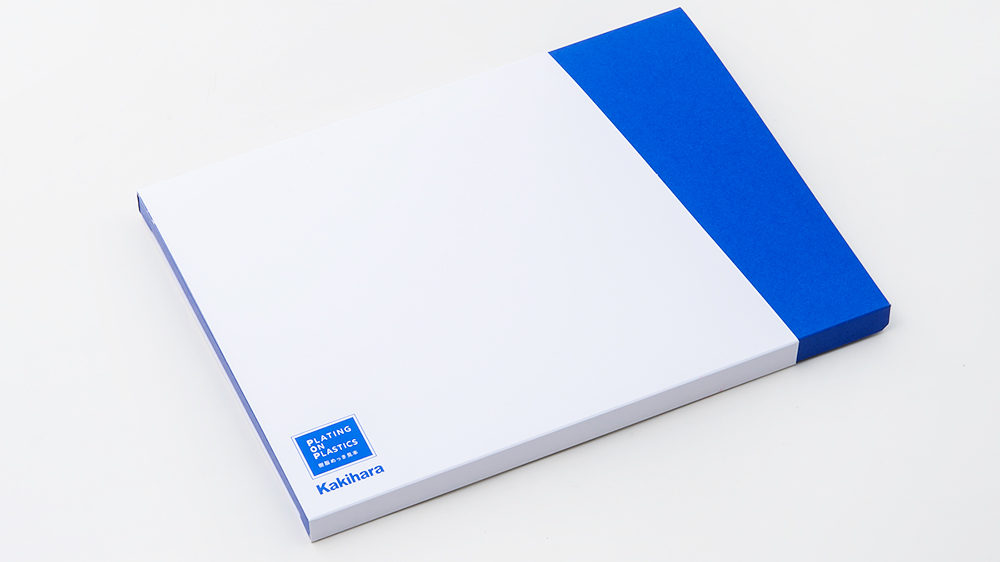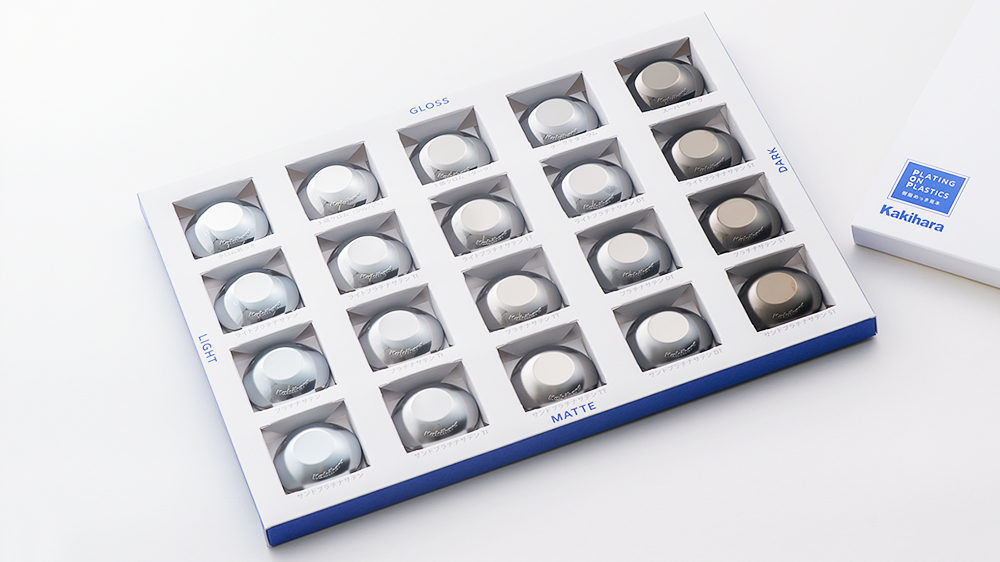 Color samples as shown by below photo are available.
Please input the requirement into below form to place your order, or make a phone call.
Kakihara Industries Co., Ltd. new process development section
tel. +81 84 953 8100
---
Partial plating technology of double molding
---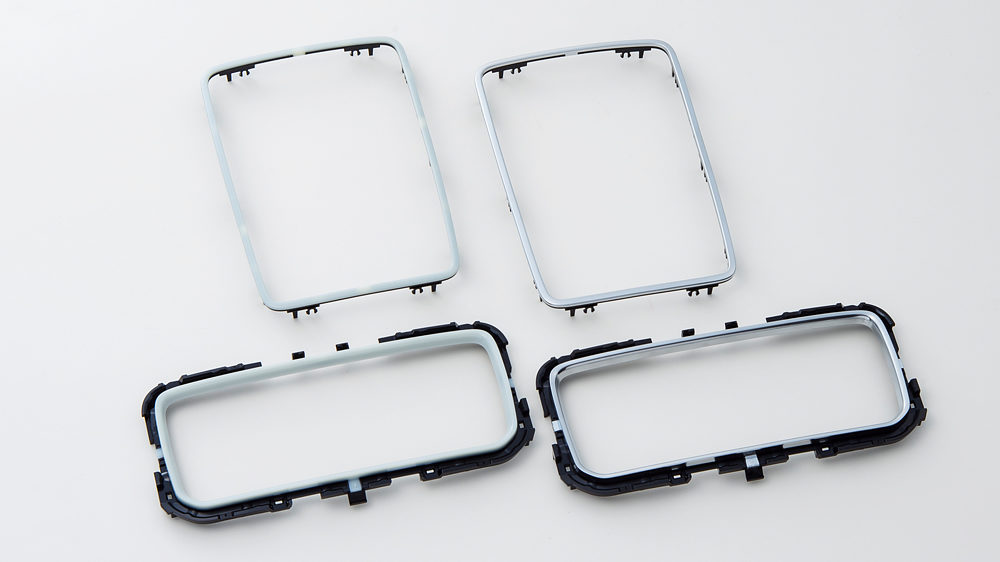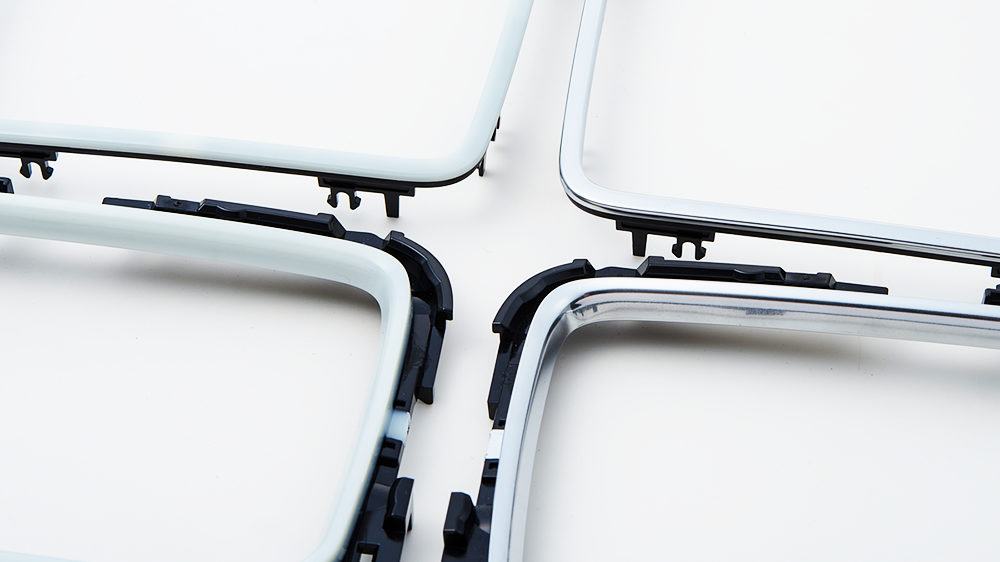 Double molding technology prevents abnormal sound
Plating technology on double molding part means plating is feasible for only necessary spot on resin parts in effective way.
Because of this technology development, plating adequate for ABS resin and plating inadequate for polycarbonate resin can be molded as integral molding and enables plating without masking. Not only implementation of high designability, this technology will leads to the prevention of abnormal sound and cost reduction due to unnecessity of assembling the parts.