[TECHNICAL INFORMATION]page which introducing our latest technical information is now available.
As per basic concept of [Technological development  by design thinking], we are freely introducing the function and color tone which generated by advanced level of plating technology.
Kinds of plating currently updated are below.
Platinum satin plating
Platinum satin titanium plating
Super dark plating
Dark titanium plating
Super durability of trivalent chromium plating
Password is necessary to access to this page.
Please feel free to contact us.
Kakihara Industries Co., Ltd. new process development section
+81 84 953 8100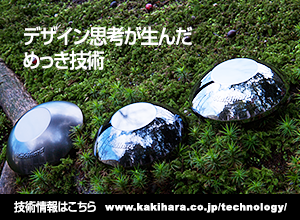 http://www.kakihara.co.jp/technology/